SCL Combi-Line Bottle Cooling

Cimbi-Line is rightfully the new standard when it comes to professional bottle cooling. Based on a few standard cooling units, an unprecedented number of options are available.

You can choose between standard 1, 2, 3 or 4 doors (length 77cm, 124cm, 172cm or 220cm, respectively), plug-ready or split (for remote condensing group). Instead of standard doors, glass doors, bottle rack with drawer and various drawer combinations can also be fitted. The cabinet will be delivered in the composition of your choice. Combi-Line has been developed according to the Energetic principle, which stands for environmental friendliness and low energy consumption. The machine is completely removable so that quick servicing in the field is possible.
Unprecedented choice


Environmentally friendly

and low energy consumption

Product features
Forced air cooling
Better cooling capacity with

35% lower energy consumption

Easy servicing due to removable machine unit
Natural refrigerant R290
Plug-ready (MU) of for split setup (VS)
LED lighting (also for drawers)
LED Colour + standard for glass doors

(adjustable colour and gradient)

Drawers telescopic, fully extendable
Legs adjustable from the inside
Electronic thermostat with automatic defrosting
Interchangeable door seals
2 bottle shelves per door, height adjustable
Skinplate housing (exterior anthracite,

interior silver coloured)

Throughput for (beer) lines on side
Option: locks on doors and drawers
The simplicity of monobloc, the diversity of modules
Technical data
SCL-2MU
1 DOOR
SCL-22MU
2 DOORS
SCL-222MU
3 DOORS
SCL-2222MU
4 DOORS
Number of bottles (20cl)
180
384
576
768
Number of bottles (30cl)
135
288
432
576

Cooling capacity*

630W
630W
630W
630W
Power consumption
240W
240W
240W
240W
Refrigerant
R290
R290
R290

R290

Temperature setting
+2°C/+10°C
+2°C/+10°C
+2°C/+10°C
+2°C/+10°C
Dimensions W x D x H (cm)
77x55x84/86
124 x 55 x 82/86
172 x 55 x 82/86
220 x 55 x 82/86

* TE = -5°C, TC = 45°C, ambient 25°C
Layout

Bottle capacity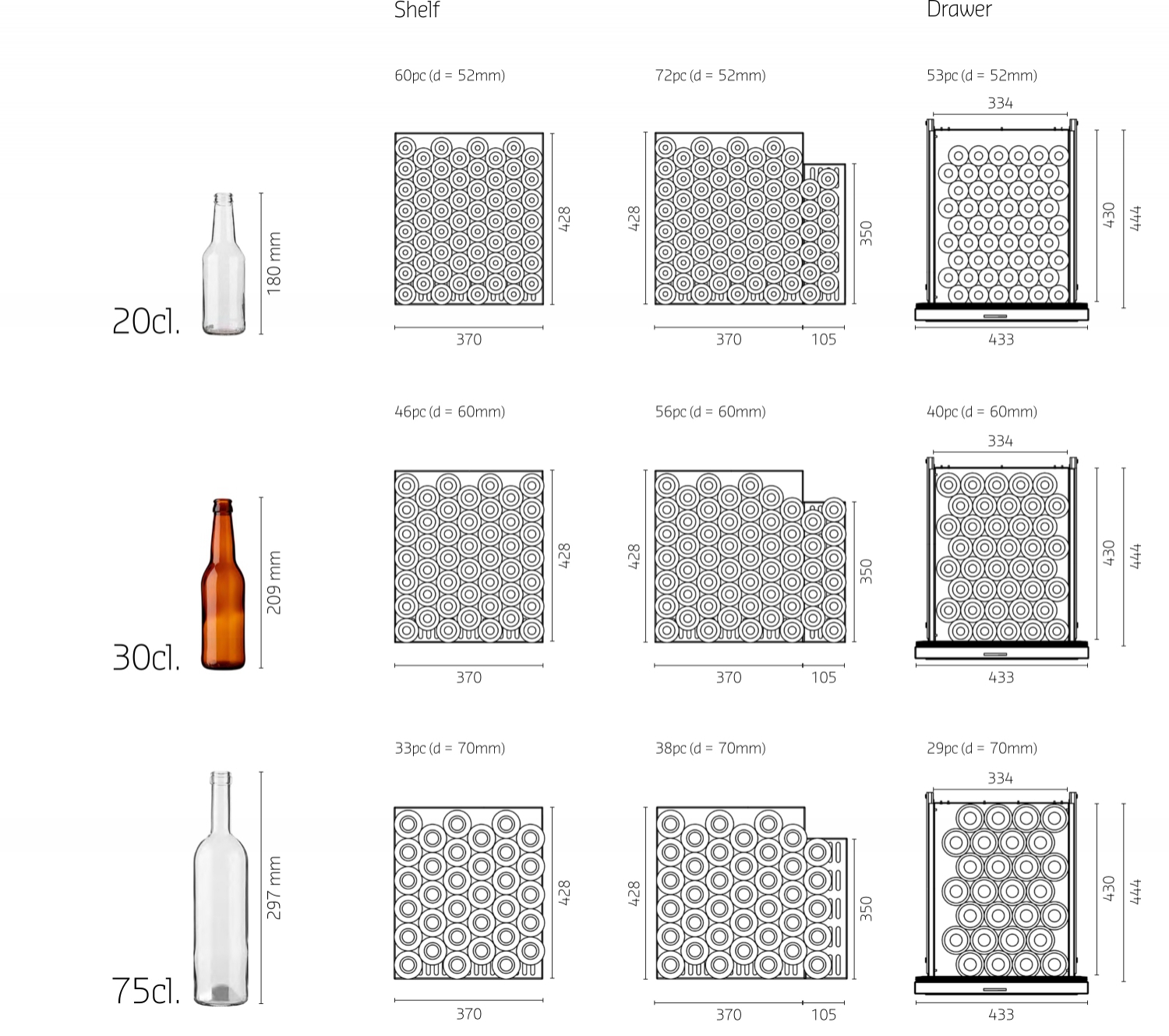 SCL plug-ready (MU)

Artikel
Code
Beschrijving
SCL-2MU
94100

Bottle cooler 1 solid door

Storage capacity: 180 x 20 cl

138 x 30 cl

Dimensions W x D x H: 77 x 55 x 82/86cm

SCL-2GMU
94101
1 glass door

SCL-22MU
94200

Bottle cooler 2 solid doors
Storage capacity: 396 x 20 cl

306 x 30 cl
Dimensions W x D x H: 124 x 55 x 82/86 cm

SCL-22GMU
94201
2 glass doors

SCL-222MU
94300

Bottle cooler 3 solid doors
Storage capacity: 576 x 20 cl

444 x 30 cl
Dimensions W x D x H: 172 x 55 x 82/86 cm

SCL-222GMU
94301
3 glass doors

SCL-2222MU
94400

Bottle cooler 4 solid doors
Storage capacity: 792 x 20 cl

612 x 30 cl
Dimensions W x D x H: 220 x 55 x 82/86cm

SCL-2222GMU
94401
4 glass doors
SCL for split setup (VS

Artikel
Code
Beschrijving
SCL-2VS
95100

Bottle cooler 1 solid door, split
Storage capacity: 180 x 20 cl

138 x 30 cl
Dimensions W x D X H: 77 x 55 x 82/86 cm

SCL-2GVS
95101
1 glass door

SCL-22VS
95200

Bottle cooler 2 solid doors, split

Storage capacity: 396 x 20 cl

306 x 30 cl
Dimensions W x D x H: 124 x 55 x 82/86 cm

SCL-22GVS
95201
2 glass door

SCL-222VS
95300

Bottle cooler 3 solid doors, split

Storage capacity: 576 x 20 cl

444 x 30 cl
Dimensions W x D x H: 172 x 55 x 82/86 cm

SCL-222GVS
95301
3 glass doors

SCL-2222VS
95400

Bottle cooler 4 solid doors, split

Storage Capacity: 792 x 20 cl

612 x 30 cl
Dimensions W x D x H: 220 x 55 x 82/86 cm

SCL-2222GVS
95401
4 glass doors
SCL options

| | | |
| --- | --- | --- |
| Artikel | Code | Beschrijving |
| SCL-1 | 94901 | Bottle rack + drawer (instead of door) |

| | | |
| --- | --- | --- |
| SCL-2RG | 94902 | Glass door R (instead of door) |
| SCL-2LG | 94903 | Glass door L (instead of door) |

| | | |
| --- | --- | --- |
| SCL-3 | 94904 | 2 x drawer 50-50 (instead of door) |
| SCL-5 | 94905 | 2 x drawer 45-55 (instead of door) |

| | | |
| --- | --- | --- |
| SCL-6 | 94906 | 3 x drawer 30-30-30 (instead of door) |
| | | |

| | | |
| --- | --- | --- |
| | | |
| | 030120 | Lock for door, drawer |
https://www.serrco.nl/en/products/winkelmandje/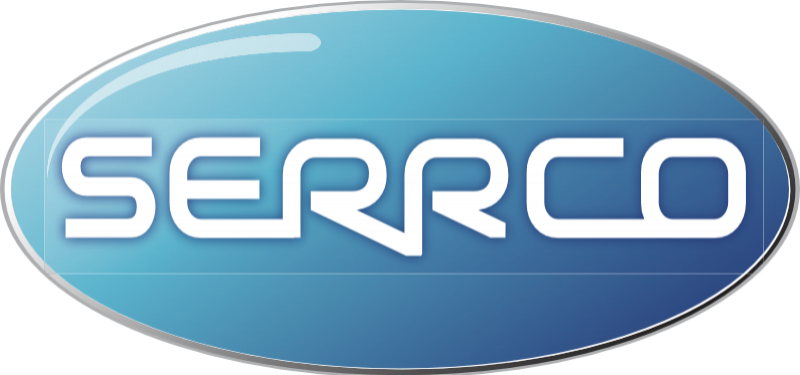 Professional beverage cooling for the hospitality industry
Contact

Serrco BV

Oude Kerkstraat 12b

4878 AA Etten-Leur

T +31(0)76 541 85 30
© SERRCO 2023 all rights reserved